All sports, all schools, one blog.
Bloggers
Laura Albanese
Mike Gavin
Stephen Haynes
Bob Herzog
Jordan Lauterbach
Gene Morris
Will Sammon
Jason Stromberg
Scenes from the Suffolk Bowling championships
Hair today, gone tomorrow. This is a "before" photo of Briarcliffe College bowler Tara Ernst, who plans to join former East Islip teammate Ali Martin in shaving their heads as part of a donation to cancer research.
"We decided to cut our hair off for children's cancer," Ernst said. "We're doing it through the St. Baldrick's Foundation and we're also donating our ponytails to Locks of Love."
According to its website, St. Baldrick's has raised over $35 million in the last year for childhood cancer research. Locks of Love uses donated hair to make hairpieces for anyone under 21 who has suffered hair loss because of a long-term illness.
Ernst's hair now extends about 7-8 inches below the shoulder. "I've never done anything like this before," she said. "I've never even cut my hair more than an inch or so. My last haircut was about eight months ago. But it's for a good cause, so it doesn't matter."
Ernst and Martin, a student at Oswego, plan to attend the state bowling championships next month in Syracuse. I'll be there, camera phone ready for the "after" shots. We're holding them to that promise.
The Middle Country girls posing for a team photo on Saturday after winning their second Suffolk title since 2010.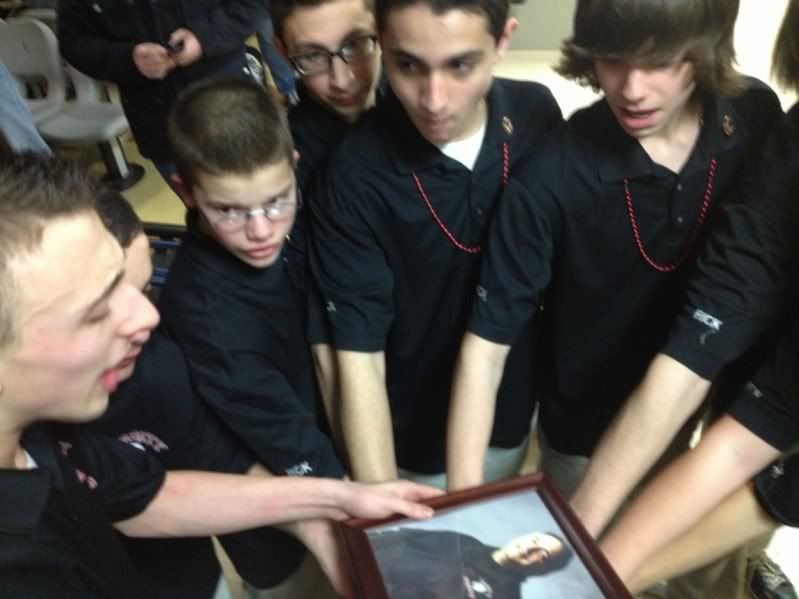 The East Islip boys, after winning the county championship, had a team huddle in which they held their hands over a photograph of former head coach Rick Papandrea, who died in November of stomach cancer. The Redmen had dedicated this season to him.
Coach says he's in 11th grade, but this guy looks like he could have a child in college. Nah, we kid. This is Toby Caruana, reputed bowler extraordinaire and milk expert. He and his wife Lauren are the parents of Nick & Jessica - the Sachem East ones, not the old MTV show - who are former All-Long Islanders in sports I've covered. You can read more about them here. Nick Caruana, who led Suffolk with a 232 average and rolled a tournament-high 1,555 on Saturday, bragged about his dad being a 245 average. Ran into Toby at Sayville Lanes, so why wouldn't I post a picture?