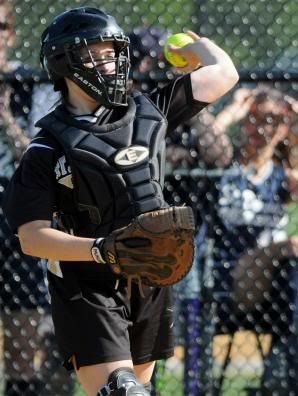 The assist goes to photographer James Escher on this one. In one of the early innings he was shooting from behind the backstop while St. Dominic was at-bat, then he walked over to me (behind first base) and said, "Hey, they've got a lefty catcher." So I immediately scribbled in my notebook: "SA #21, lefty catcher." [I find it easier to just jot down jersey numbers in my notes and figure out the names afterward… My notes during games are a bunch of numbers, random ideas inked in cursive in the margins, bracket boxes drawn around picayune stuff I notice and wind up not using 8/10 times. Tangent over.]
Anyway, #21 on St. Anthony's is Joanna Chalifoux. [One more tangent: The Friars roster had names but no jersey numbers, so a +2 to infielder Jillian Raimo for telling me what numbers all her teammates wear.] If you've lost track of the point after reading through all my twaddle: she throws lefty. I can't remember ever seeing a catcher do that. If there's a lefty playing infield, it's always the first baseman.
"It's really uncommon," said Chalifoux, who also plays first and the outfield. "But there are some advantages because it's easier to throw to first and pick someone off."
Good point. The lefty throwing to first doesn't have to switch their feet and cock back; they can kind of sling it across.
When she came to bat in the top of the third, Escher and I noticed the same thing and said, "Rickey Henderson" at the same time. She bats right-handed. It's rare that you'll see a lefty thrower who only bats righty.
"I'm ambidextrous, so I do a lot of things with either side," she said. Switch hit? "That's the one thing I can't do lefty." Uncommon indeed.
Chalifoux on the difference between catching for Amanda LaRocca, who started on Thursday, and Michelle Carbone, their usual starter: "Michelle maybe has more velocity, but Amanda's ball moves more. She goes in and out with the changeup and curveball."
LaRocca on what pitches were on in her win: "The screw and curve were very good. Those are my best pitches."
St. Anthony's coach Mike Massa on improving to14-0 in the CHSAA: "Just another step for us in trying to complete an undefeated season… We've got a young team. We only have back one starter from last year and four returning players (Nicole Parkas, Christine Cleary, Marilyn Freeman and Christina Sharkey), so it's been exciting… All year we've gotten solid pitching and good defense. That, you need to be good, because the hitting will vacillate from game-to-game."
On having two good pitchers: "It's huge. Some teams go with one person and they can get worn out. Having two allows you to give them a mental and physical rest. When you have a second girl who can come in and perform for you, it makes you that much stronger. That's one of the reasons we've been successful."