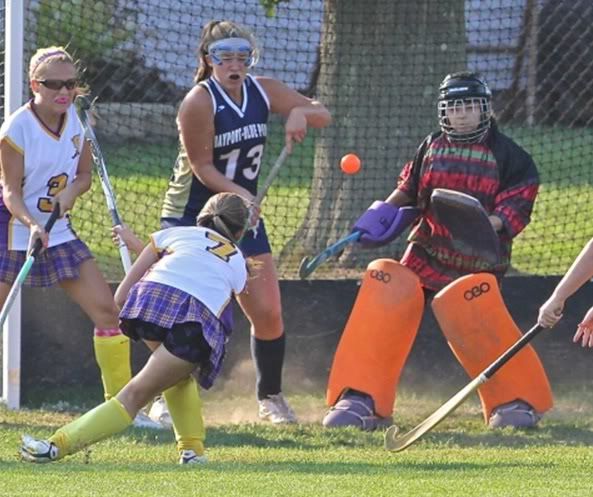 Credit for the photo goes to George A. Faella. Great shot, Georgie!
"Leftovers" is something I started in the spring with softball. For those unfamiliar, it's a blog post (usually a lengthy one) with notes and quotes from a game I covered. I usually interview a bunch of people after games (I thank you all for your time, and I apologize for taking up that much of it), but because of space restrictions in the paper, we wind up not using a bunch of stuff or cutting it short. I'd rather not left your words go to waste, so I'll transcribe them and post them here. Today, we've got the BBP vs. Sayville game (you can read the game story here), which was a 4-3 thriller that the Golden Flashes held on to win.
Kudos to Cassy Barci of Bayport-Blue Point. Not only for scoring two goals and adding an assist, but for being a good interview. She and coach Karen Iovino warned me that Cassy would be nervous and "might cry" during the interview, but she did a great job and was candid.
On her performance: "It was pretty much like nothing else mattered," said Barci, who scored the Phantoms' first goal at 18:10 in the first half and added another with 6:39 left in the game. She had the assist on Briana Rubenstein's goal at 11:37 in the first half. "It was just the game, and that was all that was in my head."
On taking a 2-0 lead early in the game: "It feels good. It felt like we'd finally beat them after all these years. But we couldn't finish it today."
On having Sayville come back to win: "The same thing happened on Monday when we played Bay Shore. I think we just got full of ourselves, I guess. I don't know how else to put it." [Note: The Phantoms eventually beat Bay Shore on penalty strokes.]
How does the team rebound from the loss? "We go and play Babylon on Friday and we have to beat them, then we play Sayville again in a couple weeks and we have to beat them then."
How long do you dwell on the defeat? "It stays with me pretty much the whole night, then tomorrow I'll come out to practice and give it all I've got."
Briana Rubenstein, whose goal at 11:37 in the first half gave Bayport-Blue Point a 2-0 lead.
On the importance of the game; "Being a senior and playing Sayville for one of the last times, it's a big game. We had the lead for a while and I guess we got it in our heads and let up, thinking we had the win."
On Barci's goal with 6:39 left that pulled them within one: "I think our momentum picked up again and we felt like we could beat them. Then we got that last corner and we almost had it. The ball was on the line and I thought we were going to tie it up. But in the end, we tried hard and that's all we could've done."
Phantoms coach Karen Iovino
On the rivalry: "I knew from last year when I was the JV coach and the assistant. It's a big build-up. I know these girls get worked up every time when we play Sayville and almost psyche themselves out, so I made sure we didn't do that this year. I think that played in our favor. We played really well. They're great competition and this is a game I love because I get to see my girls really give it everything they've got, and they did."
The letdown of blowing an early lead: "It's frustrating," she said with a sigh. "Like Cassy said, we did this on Monday. We got lucky there and made it to overtime, but we don't want to make that a routine. We want to get a lead and hold it. We have to play a full 60 minutes. In the end we busted it, but it was too late. Unfortunately, we couldn't pull it off today."
On the upcoming rematch with Sayville on Oct. 13: "Coach and I were just saying that we've got another shot at them and we're looking forward to the competition."
Taylor Mills, who scored the fourth and deciding goal for Sayville with 14:04 remaining.
On the goal: "It was really exciting... It was a great pass from Olivia. It was right at the top of the post and Olivia pulled it out to me and I just hit it in."
Shannon Litvin, who had the assist on Olivia Cabral's goal that got Sayville on the scoreboard at 6:15 in the first half.
Feelings after the game: "It was a great experience. Everyone worked together and I'm so glad and proud of my team. Everyone stepped up and I'm proud of them."
On the comeback: "We weren't doing so good. We just felt really nervous, then we got those two goals and I was so excited. Once we tied it up, I was really confident. I believed in my teammates and I just really thought we were gonna win it."
Sayville's Lindsey Kuri, whose defense was one of the keys in Sayville's comeback.
Thoughts on the game: "It was intense. The adrenaline was going on both teams, I think. We both played hard."
How will the team celebrate? "By hopefully not having a hard practice tomorrow (Monday)."
Olivia Cabral, who had a goal and two assists to lead the Golden Flashes.
On the importance of her goal: "You could tell that our team was so down when they kept scoring and everyone was so nervous and we weren't playing our game... [After getting on the board] we settled down and everything was natural to us. It got everyone pumped and ready to go. Bayport is a huge rivalry to us, so it was a big, huge win for us, especially since we were down. We don't expect to be down."
On leadership: "There's times I almost feel like a senior because I've been playing on the varsity as long as them," said Carbal, who aspires to be a teacher. "I try to be a leader on the field and in practice. In school, when I see my teammates, I always try to direct them if they've having trouble – the JV as well. I try my best to be a leader, hopefully."
The influence of her sister, Cassie, who now plays at Adelphi: "My sister has a huge impact on my life. I was originally a soccer player and I had no intentions of playing field hockey, but my sister was such a role model that I decided to play. I got to play with my sister my freshman year and it was a great experience. We'd have both our parents at the games and they wouldn't have to split up."
Does Olivia feel she's stepping out of her sister's shadow? "No. I'm never going to say I'm better than my sister or that she's better than me. We really have that competitive fire in us, so I wouldn't say I've been in her shadow. We do our own thing, although we kind of do things similarly."
Coach Patty Fedelem
On the stress of falling behind 2-0: "You should've seen me pacing back and forth. I knew we could come back, we just needed one goal. Bayport was phenomenal. Their girls were coming down and penetrating our defense, picking it apart and scoring on us. After we made some switches on defense and subbed in some key girls – Lindsey Kuri being one of them – we were able to mount a solid attack. Soon as Libby put that in with a few minutes, we scored three goals. The momentum really switched, but we knew at halftime that Bayport has the capability of coming back and coming back strong."
How big was Taylor Mills' insurance goal? "Ohhh, wow. I wish we'd had another, then my heart wouldn't have been in my throat."
*I'll be at Sewanhaka tomorrow for their game against Floral Park. It'll be a rematch of a game I covered last Sept. 14. It was Sewanhaka's first ever game as a varsity program and Floral Park got the win, 4-3, in overtime. Fast-forward a year and let's see how the teams have progressed. Floral Park is 3-0 right now and Sewanhaka is 2-0.
* A Big shout-out to Bay Shore's Sarah Fuchs, who scored four goals in a 5-2 win over Babylon last night to record her first career hat trick. I spoke to her and coach Mary Drago last night and Sarah will be featured in this week's "Field Hockey" notes in the Sunday paper. Be sure to check that out.